Goodaccess Review: Cloud VPN For Businesses
These days, cybersecurity platforms are essential for protecting our digital assets, including sensitive personal and financial information, intellectual property, and critical infrastructure. Cyberattacks can have serious consequences, including financial loss, reputational damage, and even physical harm (remember several attacks on health care infrastructures).
In addition to protecting data and networks, cybersecurity platforms also prevent unauthorized users and protect end-users. They provide business protection against malware, phishing, social engineering, and ransomware, and improve confidence in products for both customers and developers.
Today, we are going to talk about GoodAccess, a professional secure remote access platform, and its remarkable features.
What Is GoodAccess?
GoodAccess is a cloud VPN that provides secure remote access for small and medium sized businesses.
This cybersecurity platform has been active since 2009 and it is based in the Czech Republic.
It is designed with simplicity and ease of use in mind, making it an ideal solution for businesses looking to protect their digital assets without the complexity of traditional VPNs.
Thanks to GoodAccess, businesses can securely access digital content anytime, anywhere, and overcome traditional implementation barriers such as labor-intensive systems, skills gaps and budgets
In addition to the functioning of traditional VPNs, the platform offers advanced security features, such as identity-based access control, traffic encryption, multi-factor authentication, single sign-on, and network segmentation. On the top, it delivers protection of users against common online threats such as phishing, malware, and botnets, overall creating a a bulletproof defense against network breaches.
GoodAccess is designed to meet the needs of SMBs, enabling them to seamlessly mitigate the risks posed by remote employees, Bring Your Own Device a.k.a., BYOD, and distributed IT resources.
The platform is delivered on the subscription (SaaS) model which offloads much of the work related to the solution maintenance to the provider so that even a small business without dedicated experts can benefit from it.
It offers lightning-fast deployment (literally a few clicks and basic configurations in web GUI), instant user login, direct connectivity to devices, systems and the cloud, and everything under one roof of a web management dashboard.
Companies can run their operations as a flexible web service, using technology and operational costs to the provider, and ultimately reduce web-security costs.
What are the Best Features of GoodAccess?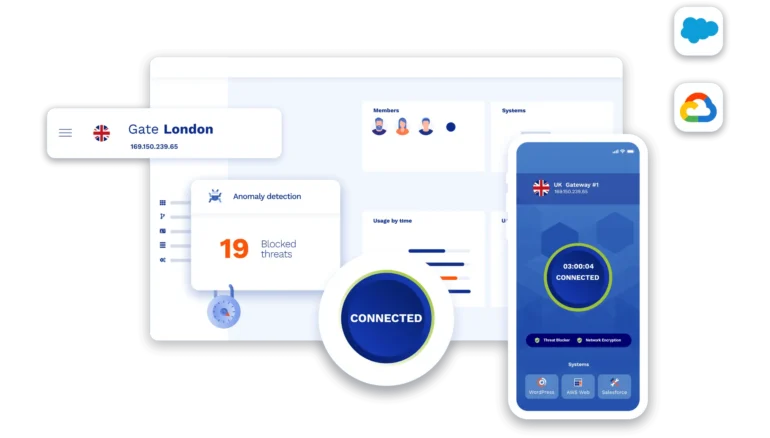 GoodAccess offers several features that make it stand out from other VPN services. Here are some of the best features of GoodAccess:
Zero Trust Network Access: GoodAccess provides zero-trust network access, which means that it verifies the identity of every user and device before granting access to the network. This ensures that only authorized users can access the network and reduces the risk of data breaches.
Static IP Address Whitelisting: GoodAccess allows you to whitelist specific IP addresses, which means that only devices with those IP addresses can access your network. This provides an additional layer of security and helps prevent unauthorized access.
Full-Featured Cloud VPN: GoodAccess is a full-featured cloud VPN that provides secure internet access and online threat protection for business teams. It offers features such as multi-factor authentication, dynamic access control, and more.
Dynamic Access Control: GoodAccess provides dynamic access control, which means that it allows you to set up access policies based on user roles, device types, and more. This ensures that only authorized users can access the network and reduces the risk of data breaches.
Multi-Factor Authentication: GoodAccess provides multi-factor authentication, which means that it requires users to provide two or more forms of identification before granting access to the network. This provides an additional layer of security and helps prevent unauthorized access.
Online Threat Protection: GoodAccess provides online threat protection through its Threat Blocker feature. It is automatically enabled for all customers with no additional setup required. GoodAccess uses several threat intelligence feeds to identify and block connections with malicious domains in real-time (so-called DNS filtering).
Compatible With Multiple Devices: GoodAccess provides one-click applications for iOS, macOS, Android, Windows, and ChromeOS. You can download the GoodAccess app on your Android or iOS device from the respective app stores. Once authenticated through the GoodAccess app, any device turns into a secure end-point.
What is the GoodAccess Pricing Structure?
GoodAccess offers a 14-day, fully-featured free trial for new users with no credit card required. After the trial period, you can choose from one of the following plans:
Starter: This plan is free forever and offers secure internet access and online threat protection for business teams of up to 100 users. It includes a web-based management platform, mobile and desktop client apps, and global public infrastructure in 35+ locations. However, it does not include static IP for whitelisting.
Essential: This plan costs $7 per user/month (when billed annually) and offers full-feature cloud VPN with static IP addressing, dedicated cloud VPN with static IP whitelisting, threat blocker basic, encrypted internet access, public Wi-Fi protection, and knowledge base access. It also includes instant deployment, dashboards and weekly reports, MSI deployment, dedicated gateway with static IP, unlimited data usage, and global secure private network.
Premium: This plan costs $11 per user/month (billed annually) and offers zero-trust network access for multi-site and cloud businesses. It includes all the features of the Essential plan plus clouds and branch connectors, custom domain names, site-to-site connectivity, zero-trust access control, single sign-on (SSO), SCIM, custom domain blocking, system-level access logs, priority chat and email support, and solution architect deployment assistance.
Enterprise: This plan is available on request for organizations with a minimum of 50 users. It includes all the features of the Premium plan plus premium 24/7 support, 10 Gbps connection/gateway, unlimited gateways, unlimited cloud and branch connectors, 24/7 phone support, and dedicated account manager.
Note: The plans and prices mentioned can change in the future. One should go through the GoodAccess website for any changes.
What is the Final Conclusion?
GoodAccess is used by more than 1300 businesses and organizations from various industries worldwide. According to review platforms such as G2, users rate it 4.8/5, and 92% of them would recommend it.
In summary, GoodAccess is a cyber security system that gives businesses the security benefits of trust without complications. It's a simple, easy, and cost-effective solution that enables businesses to access secure digital content anytime, anywhere.
You can try the free trial on the official GoodAccess website.