Is FBS Legit or Not? FBS Review
We are living in a fully digitalized era. High technology and wireless internet connection are accessible to billions at the moment. Things that were facts of fiction some decades ago are now our day-to-day reality.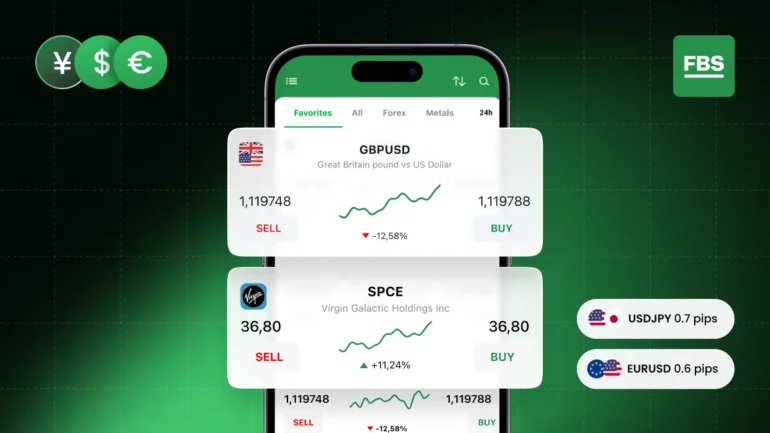 One of the jillion things that high tech makes possible now is trading. Something only a limited number of professionals could do years ago. Now, anyone with a smartphone and mobile network can access the financial market and try to make their dreams come true.
Today, you get a wide range of online brokerage companies to choose from. Each tries to lure you with unique features, beneficial conditions, bonuses, promos, and advanced mobile applications with modern-day characteristics beyond imagination. 
Join, create an account, and dive into trading currency pairs, energies, metals, cryptos – anything you wish to get closer to, let's put it this way, financial independence. Or you might as well have a good time buying and selling assets just for the fun of it (if that's your idea of fun).
However, let's focus on people who take trading seriously and see it as a way to get by financially. They may spend a tremendous amount of time comparing brokers and hesitating about whether trading is worth the risk in the first place. So, when they eventually make their choice, is it the right one?
It is an unfortunate fact that not all brokers are equally trustworthy. Scam and fraud are frequent words in the world of trading. But the good news is that there are brokers you can trust.
This article will focus on FBS, one of the brokers present in the Philippines. You will learn about the history of FBS, its offers, how the company feels in the Philippe trading community, and the overall impression it gives to customers of other countries. 
Meet FBS, an international broker
FBS was founded in 2009 as a company providing brokerage services. The idea was to open a broad gateway to market opportunities for anyone. Today, FBS is a world-known brand that unites independent companies operating under several licenses. Customers come from over 150 countries. More than 27 million trades with FBS. 
The IB (Introducing Broker) Program has brought FBS 430 000 partners from around the world, including the Philippines. 
Fourteen years in, FBS has received multiple international awards marking the company's achievements in customer service, professional devotion, service quality, referral program, and more. 
In 2023, FBS scored 7.2 out of 10, hitting second in an FXonline.ai listing of the world's top brokers. The innovative AI-driven platform marked FBS's customer-focus approach and highlighted the company's excellent usability, customer care, and swift registration process.
According to what FBS representatives say, the company's basic principles are reliability, favorable trading conditions, and a customer-focused approach. 
FBS sees reliability as a set of necessary measures, standards, and procedures that are a must for any respectable and professional broker. 
The company is committed to providing its customers with the highest level of privacy protection, as account security is a top priority when offering brokerage services in the digital age.
Things like fast order execution, minimal deposit/withdrawal time, and the use of segregated accounts to ensure the safety of clients' funds are also at the core of FBS' business ethics.
FBS is also one of the brokers that offers the maximum opportunities to profit from trading. The number of trading instruments is quite impressive. Traders can choose Forex, metals, energies, stock, indices, and crypto – 299 instruments if you want to be precise. 
Combine it with seven different trading accounts that meet varying trading preferences, styles, expertise, and budgets, and you will get a handful of options to see if trading is your thing and whether you can make it work for you.
To help you, FBS goes even further and offers free training to its customers. Free-of-charge educational courses are available to any FBS trader through the "FBS — Trading Broker" mobile app. All content comes from the in-house Analyst Team; it's expert and well-composed into several sections fitting different experience levels – Beginner to Pro.  
FBS training content is also available to any Internet user. The company manages a number of official social media accounts and uploads informational videos to its YouTube channel.
FBS tries to keep in touch with customers at all times. Not just through social media communication – FBS is proud of its online customer Support Dept. The multilingual team is always online and ready to help.
FBS in the Philippines
FBS is no stranger to the Philippine trading community. It's been around for years and sees the country among its top-priority markets.
You can see that by looking at the current FBS Philippines statistics:
Since 2020, FBS trading volume has grown 160% — a significant growth. 

The Philippines has made the top 5 countries in terms of FBS trading volume over the past year. 

The country is the home of the biggest FBS partner.
FBS keeps a close record of the company's involvement in the Philippine trading community. Thanks to that, we know that:
Filipino FBS customers prefer trading Forex and metals. 

About 25% of trades are executed through Expert Advisors by regular clients and around 35% by partners – these figures are higher than the global average for FBS traders. 

The "FBS – Trading Broker" app is rated 4.39 in the Philippines.

As of 2023, the application has been downloaded by nearly 110 thousand users. This makes "FBS – Trading Broker" the 6th most downloaded investment app in Google for the Philippines. 

FBS supports all the major payment systems in the Philippines, including Visa and Mastercard, the Gcash e-wallet system, and online banking services at BPI Bank, Union Bank, and Metrobank.
Customer reviews
According to BrokerChooser.com, FBS has a rating of 4.2/5. The rating is based on over 500 criteria and results from a real-life test drive. The site's experts recommend FBS for Forex/CFD trading.
Overall, customers from around the world call FBS a dependable broker, praising it for meeting their basic trading needs, offering trading conditions that work for them, a variety of account types, and a wide choice of trading instruments, including cryptocurrencies.
Is FBS legit or is it a scam?
FBS is legit and safe to work with, as we can tell by the statistics in the Philippines and overall performance in other countries of presence.
As a regulated broker, FBS operates legally in over 150 countries worldwide, with several independent brokerage companies under the CySEC, Belize FSC, and ASIC licenses.
FBS is reachable – so any trader can contact the broker via social networks, email, or the 24/7 Support Team.
FBS trading conditions are transparent and the commission system does not involve hidden fees or overpayments. Other conditions include the leverage of up to 1:3000, low spreads, fast order execution, and easy withdrawals with the country's most popular payment systems.
FBS offers seven types of trading accounts for various trading styles and budgets. Combined with nearly 300 instruments, it makes for a gallery of trading options to choose from. 
Trading with FBS: is it a go?
We hope this FBS review was helpful. However, when considering whether to trade with FBS (or any other licensed broker of your choice), it's important that you carefully evaluate your own trading goals and risk tolerance. Do thorough research on platforms, their features, regulations, and customer reviews before making a decision.
Remember, Forex and CFD trading entails high risk and may not be suitable for all. Success is not guaranteed. Losses may be devastating. Before proceeding with trading, make sure you've learned the basics of trading and know how to use modern-day trading tools such as applications, software, indicators, etc.
Wrapping up, if you feel confident and eager to take up trading, FBS is definitely a choice you can consider.