Frase Affiliate Program 2023: Comprehensive Review
We are going to talk about the Frase affiliate program in this post.
These days, artificial intelligence is everywhere and many innovations are happening around it.
AI has made people's lives easier by saving time and money.
What Is Frase?
Frase IO is a software comprised of both AI writing and SEO research tool.
The ultimate goal of the Frase IO is to create content that ranks well in Google.
One can research, create engaging outline, produce high quality content and at the same time optimize it well with Frase Io.
What Is Frase Affiliate Program?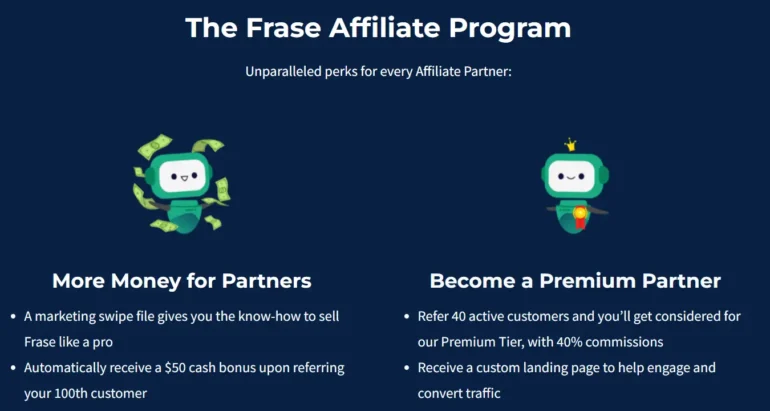 You can make money by recommending customers to Frase IO.
It is a lifetime opportunity for everyone to earn passive income.
Who Can Join the Frase Io Affiliate Program?
Anyone who belongs to the SEO industry and needs a passive income can join as a Frase IO affiliate.
Are you a blogger or a video blogger? You can try this affiliate program.
Freelancers and agencies can make extra income referring to their colleagues, or friends to Frase.
If you are an existing customer of Frase, then you can earn additional revenue by promoting Frase IO.
How Can Someone Gets Approval as Frase Affiliate?
Unlike some affiliate programs, your affiliate account will not get auto approval.
They will manually check every affiliate application.
Actually, there are no shortcuts to getting approval.
However, one should know how Frase works.
Explain how you will be going to promote Frase IO.
Frase is particular about your site's traffic.
So, mention the best traffic sources and explain how you can get the conversions.
How to Join the Frase Affiliate Program?
Visit https://www.frase.io/affiliate-program/ to join as a Frase IO affiliate.
Frase doesn't approve every affiliate application.
They are a little cautious while choosing the affiliates.
You will be asked a few questions like website, promotional methods and social media handles.
Once they are convinced with your answers, you will receive the approval email.
At the time of writing this review, the Frase IO affiliate program is managed by FirstPromoter.
How Can Affiliates Promote Frase?
The affiliates can promote Frase using the following strategies:
Write a blog post about Frase and share it with your friends and subscribers.
The affiliates will have access to various promotional banners, newsletters, emails and links. You can take advantage of them by promoting them on your blog or website.
Create videos about AI writing and AI software. Explain how Frase can help in ranking the content. Leave your Frase affiliate link in the description.
Promote Frase systematically on your social media profiles. Build connections related to SEO, content writing and blogging. Convince them that Frase tool helps them ranking while saving time.
Subscriptions are necessary to promote your content. Prepare newsletters about Frase tool and make sure they reach your audience. Don't forget to include your affiliate link in the newsletter.
Organize webinars about SEO and content writing. Introduce the Frase tool to the participants and share your affiliate link with them.
Please note that Frase doesn't allow affiliates to run Pay Per Click (PPC) campaigns.
What Are the Frase Affiliate Commission Rates?
There are two types of affiliate commissions one can earn:
Usually, Frase affiliates can earn 30% commission every month. The commissions are recurring in nature.
When you recommend Frase to at least 40 customers, then you will be eligible to be called a premium partner. The Premium partners will receive 40% affiliate commission. You will be provided with a custom landing page for referring customers.
Note: Once you finish referring 5 customers, you will also receive a $50 bonus reward.
How and When Will Affiliates Get Paid?
Being a Frase affiliate, you need to reach at least $100 in commissions before getting paid.
The payments are made on a monthly basis and the only payment option is PayPal.
What Are the Benefits of the Frase Affiliate Program?
The approved affiliates will receive a marketing swipe file that contains social media posts (LinkedIn, Twitter etc.), brand assets, website copy, email copies, media, crash course link, demos and many more.
The commissions are very competitive. Affiliates can earn thousands of dollars every month.
Frase is rewarding affiliates based on the performance. The more referrals you make, the more commissions you can earn.
When someone signs up from your affiliate link, they are entitled to receive a 60% discount for their first month.
The cookie period is 60 days. That means when someone clicks on your Frase affiliate link and takes action within 60 days, you will receive commission.
You don't need to be a Frase customer to join the affiliate program. However, Frase recommends affiliates to try their tool before promoting it.
The affiliate dashboard is simply exceptional. You can track clicks, conversions, referrals, and revenue in real time.
What are the Alternatives to the Frase Affiliate Program?
What Is the Final Conclusion?
Frase is offering decent commission structure compared to their competitors.
The affiliates should certainly try this affiliate program.
Are you a Frase affiliate?
If yes, then please share your working experience.
We hope this Frase affiliate program review helps affiliates in getting started.
Join the Frase affiliate program and start earning decent commissions!