Adsterra CPA Affiliate Network (2023): Comprehensive Study
Today we will be covering the Adsterra CPA network on our site.
Adsterra is a leading ad network that acts as a bridge to advertisers and publishers worldwide.
We have already reviewed Adsterra advertising on our site. You can read the Adsterra review.
We have also written how we made $11k in 11 days with Adsterra.
Adsterra is now a global ad network and CPA network.
The ad network deals with advertisers and publishers whereas CPA network works with the affiliates.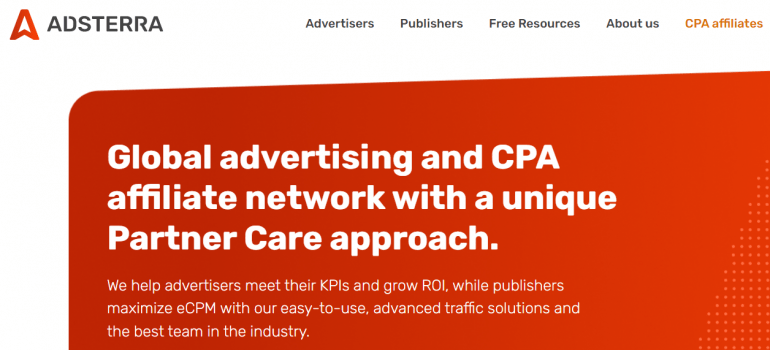 What Is Adsterra CPA Network?
The Adsterra CPA network is exclusively into high converting VPN, software and utilities offers.
The advertisers will be running high quality ad campaigns through Adsterra.
On the other hand, publishers will be monetizing their websites and apps by promoting exclusive CPA offers.
What Are Revenue Models of Adsterra Affiliate Network?
Mostly the Adsterra affiliate network work with CPA, CPL and CPI revenue models.
What Are the Allowed Traffic Sources?
Adsterra mainly allows push, popunder, banners, Facebook traffic and social traffic.
However, the affiliates should crosscheck the traffic option before promoting any offer.
Adsterra has zero tolerance towards the fraud and bot traffic.
What Are the Verticals That Work with Adsterra?
Adsterra CPA network mainly works with the following verticals:
VPN
Utility
Software
Cleaners
Antivirus
Dating
Gaming
Gambling
Sweepstakes
Subscriptions
and many more.
How To Get Started with the Adsterra CPA Network?
To join as Adsterra affiliate, go to this page https://adsterra.com/cpanetwork/.
While trying to sign up as Adsterra affiliate, you will find the following form:
Once you fill all the details, create your affiliate account at Adsterra.
The best part is that they will auto approve your affiliate account within a few minutes.
After you verify your email, you can login straightaway into your affiliate account.
The login page will look like the image below:
On the same page, when you scroll down you will find the offers section. Please find the image below:
You can choose the best offers by selecting the relevant vertical, geo and conversion type. You can see the example of offers in the image below.
However, you can also request your dedicated account manager for the private offers. They will ask for a few details before approving a private offer.
What Are the Payment Options?
The affiliates can get paid using the following payment options:
PayPal
Wire transfer
USDT (Tether)
Paxum
Bitcoin
Webmoney
When and How Will You Get Paid?
The threshold payouts for different payouts are as follows:
PayPal – $100; Fee – up to 5.4% of payout amount
Webmoney – $5; Fee – 1% of payout
Paxum – $5; Fee – $1
Wire transfer – $1000; Fee – $50 for USD and $0 for EUR
Bitcoin – $100; Fee- Network fee is included
Tether – $100; Fee – 2% of payout amount plus network fee
The payments are made on a biweekly basis.
What Are the Best Features of the Adsterra CPA Network?
Auto approval: You don't need to wait for the Adsterra team approval. You can start promoting once your account is active.
Fast payouts: The affiliates will receive payments on time.
Highly optimized and high-quality offers: The affiliates will have access to the best direct offers from the numerous niches.
Dedicated support: If you have any issue or a query, then you can chat with your dedicated account manager straightaway from your dashboard.
Related: Learn how to make money with Shareasale!
When we asked about the CPA ads from our approved publisher account, we got the following reply from Adsterra:

"Hi there!

Let me briefly describe pricing models for all ad units:

Most of our banner ads are performance-based ads (CPA) while for native banners, we have a mixture of CPM/CPA/CPC ad campaigns. I would say their shares are following: 50% for CPA, 45% for CPM and 5% for CPC.

Popunder / Direct link ads are 50/50 CPM/CPA, and social bar is 75% for CPA, 20% for CPM and 5% for CPC.

So, CPM is when you earn for impressions, CPC — for clicks, and CPA — for the actions made by users on the landing pages with ads (subscription, download, etc)

Cheers,
Adsterra "
What Is the Final Conclusion?
The Adsterra CPA network definitely helps you in growing your online income.
You will have access to multiple niches and products.
Have you worked with the Adsterra CPA network?
We would love to hear about your working experiences with the Adsterra CPA affiliate network.
Hope this Adsterra CPA network review helps the new affiliates while getting started.