Adoperator SmartLink Monetization 2023: Comprehensive Review
In this series of reviews, we have AdOperator on the list.
We will be discussing AdOperator SmartLink monetization in this post.
Before reviewing SmartLink monetization, let us know about Adoperator first.
What Is Adoperator?
AdOperator is a popular programmatic self-serve ad platform based in Cyprus.
The advertisers can increase their ROI and improve their business by running ad campaigns.
On the other hand, publishers can monetize their websites' traffic by placing ads.
AdOperator acts as a bridge between advertisers and publishers.
So, it is a win-win situation for publishers, advertisers and AdOperator.
One can open this Adoperator Sign up page to register either as an advertiser or a publisher.
Adoperator For Publishers:
Are you a website owner and looking for monetization?
Then, Adoperator is the best place to monetize your site's traffic.
Adoperator allows publishers from every part of the world.
To join as a publisher, visit https://adoperator.com/publishers.
Once you register as a Adoperator publisher, you need to add your site.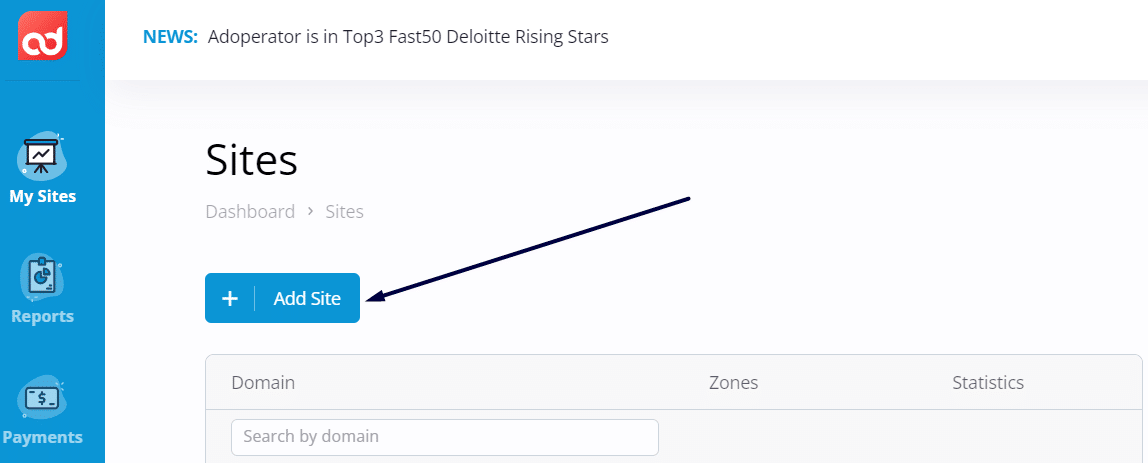 Once you add your site, the next step is adding zone.
Once you click Add zone, a pop up with ad formats will appear.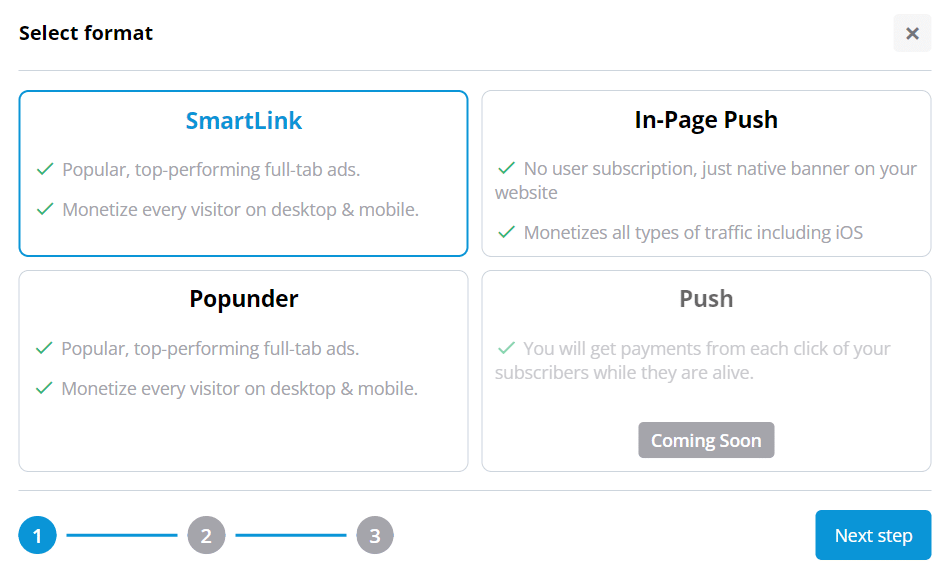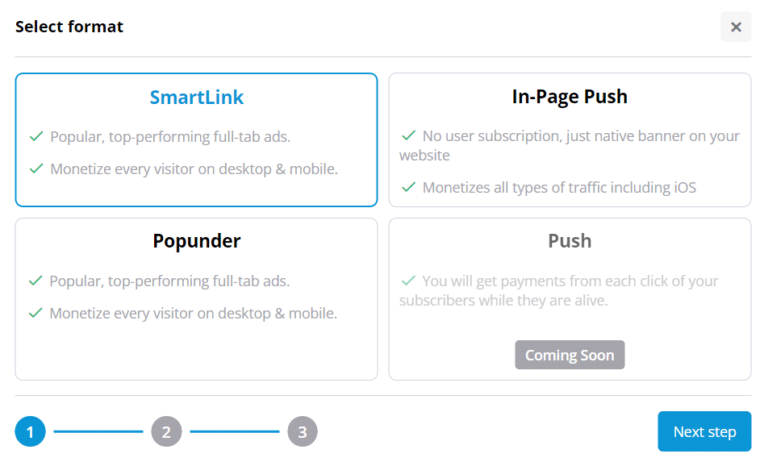 We will discuss the SmartLink ad format now.
What Is SmartLink?
SmartLink is nothing but a direct link that publishers can use to make decent money.
Adoperator SmartLink ads are basically full tab ads.
The main purpose of SmartLink format is to monetize unsold traffic.
If your website attracts 404, or redirected traffic, then the publishers can monetize with Adoperator SmartLink.
How to Get Started with SmartLink?
Being a AdOperator publisher, once you login into your account dashboard, select the SmartLink option and click on the Next Step option.
To create a SmartLink, you need to name a Zone. We named the zone "SmartLink" as an example. You can name anything.

After naming the zone, the last step is creating SmartLink.
Once you click the Create button, you will see the following screen.
Click on the Get link to get SmartLink.
SmartLink Settings:
Open Settings option to see the domain name and zone name.
Reports:
The publishers can track the impressions, clicks, revenue, filtered and CPM by date, site, and zone.
Clicks and impressions:
The publishers can track the clicks and impressions that are generated via direct links on a daily basis.
CPM:
AdOperator publishers can check the CPM rate on a daily basis.
The more people your SmartLink reaches, the more revenue you can earn.
Revenue:
The publishers can track their revenue in real-time.
Filtered:
The Filtered option shows the number of unwanted traffic.
AdOperator doesn't allow bot, proxy and iframe traffic.
Any traffic generated from unwanted sources will be displayed under the Filtered option.
How Does SmartLink Work?
The site owners can use banners or direct links on their websites to monetize their traffic.
The other way is monetizing expired domains by redirecting to the SmartLinks.
Remember that these expired domains shouldn't be used in any of the domain parking platforms.
Apart from these sources, one can also monetize using affiliate links that allow trafficback URLs.
One should send some quality traffic to test the SmartLink performance.
You will have some idea about the CPM rates and revenue.
You should not expect great revenues initially. It takes some time for AdOperator to analyze the traffic. The revenue purely depends on the traffic you send to SmartLink.
At the time of writing this article, the publishers can add 5 new zones for a website.
What Are the Benefits of AdOperator SmartLink Monetization?
To monetize using SmartLink, you don't need to verify your websites.
AdOperator is committed to pay for the quality traffic.
The publishers can make money from unsold, redirect and "page not found" traffic.
Being a Adoperator publisher, you can also make 5% commission from your referral's revenue.
AdOperator Payment Info:
You should reach at least $20 in earnings to receive payout.
The payment options are Capitalist, Webmoney, Paxum, PayPal, Payoneer, USDT, Skrill, Neteller, Revolut, and Bank Transfer.
AdOperator For Advertisers:
Do you want to grow your business by selling your product or service?
Then, you can approach AdOperator for setting up ad campaigns.
The ultimate goal of any advertiser is to make money from their products or services.
AdOperator helps you to reach a broader and targeted audience and thereby increases sales.
How to Setup an Ad Campaign in AdOperator?
Before launching an ad campaign, your advertiser account should be activated.
The advertiser should visit this Adoperator advertiser page to sign up.
Basically, there are two types of advertiser's accounts: Individual and Company.
Once you verify your email, you will have to login into your advertiser account and it will be redirected to the funds page.
You can also visit the Add Funds page directly to deposit your ad budget.
The minimum deposit varies with the payment option that advertiser chooses.
Let us see the payment options offered by Adoperator.
Credit Card:
The minimum deposit is $100 when you use a credit card (Stripe) option.
CryptoPay:
If you use this option, then the minimum deposit is $100.
At the time of writing this article, the advertiser can choose any of these options: Bitcoin, Litecoin, Bitcoin Cash, USDT (ERC20), XRP, Ether, USDC, DAI, XLM, BNB, and BUSD.
PayPal:
The minimum deposit is $100 if you use PayPal to add funds.
Before adding funds, one must verify their PayPal account.
Alipay:
The minimum deposit when you use Alipay is €100.
WebMoney WME:
The minimum deposit is €100.
Capitalist:
The minimum deposit in the case of Capitalist payment option is $100.
Paxum:
The minimum deposit is $100 when you use Paxum for adding funds.
Bank Transfer:
The minimum deposit one should make is $500 via bank transfer.
You can go through the past transactions in the Billing history section.
Once you add funds successfully, you can start creating an ad campaign.
Create Campaign:
To create an ad campaign, go to the Campaigns page.
What Is the Final Conclusion?
The site owners should take advantage of Adoperator SmartLink monetization.
You can also use Push ads, Pop under ads and In-page push ads along with SmartLinks to maximize revenue.
Have you used SmartLinks for monetization?
We would love to hear the SmartLink experiences.
Join as a Adoperator publisher and start monetizing!