Flipkart Affiliate Program (2023): Scam or Legit (Review)
We are going to review Flipkart affiliate program in this new post.
The affiliate marketing industry has grown significantly with the emergence of new ecommerce and innovative startups.
Affiliate marketing is one of the legal ways to make money online.
In many cases, you don't need to have a website or app to make money from affiliate marketing.
Even higher professional qualifications are not needed to be successful at affiliate marketing.
All you need is a special skill to promote and sell the right products to the right customers.
What Is Flipkart?
People are preferably interested in buying things online rather than visiting shops directly.
Ordering things through mobile apps, tablets or PCs could save one's time, energy and money.
Almost every Indian knows about Flipkart, one of the leaders in India's ecommerce segment.
Flipkart was founded by Sachin Bansal and Binny Bansal in the year 2007. Ironically, they were ex-employees of Amazon.
In 2018, US retail chain giant Walmart acquired Flipkart.
They have a wide range of products in every category but Flipkart is mainly successful in selling electronics, fashion, and home appliances.
The other categories are groceries, books, home decor, home furnishing, furniture, fashion & lifestyle, mobile phones, Flipkart gift cards, gemstones, silver and gold coins.
At the time of writing this article, Flipkart marketplace has over 80 million products in 80+ categories.
To all who are skeptical about the Flipkart affiliate marketing program in India, it is a proven way of making money online.
Of course, only Indians can make money by joining this affiliate program.
Here comes the ultimate guide to Flipkart affiliate program.
What is Flipkart Affiliate Program? (Flipkart Affiliate Program Kya Hai -Hindi)
Does Flipkart have an affiliate program?
Yes, the Flipkart affiliate program is quite similar to that of Amazon affiliate program, Walmart affiliate program and eBay partner program.
While Amazon and eBay affiliate programs have global presence, Flipkart affiliate program is for Indians only.
Flipkart is welcoming affiliate marketers to join their reward program for promoting their products in multiple categories.
The commissions vary with products and affiliate marketers should plan strategically accordingly.
The affiliates can make money by recommending Flipkart products to the customers.
For that, you need to place product banners or links on your website to reach a potential audience.
What Are the Flipkart Rules for Affiliates?
The self-referral system is not allowed for affiliates. For example, you cannot buy products from your own affiliate links.
The affiliates should not directly send customers to Flipkart by running PPC campaigns. However, if you drive a user to your website first and then that user buys a Flipkart product from your unique affiliate link, then it is valid.
Being an affiliate, you should not bid on keywords related to Flipkart.
You should not encourage users to install mobile apps by paying some amount.
Always contact the Flipkart support team whenever you run ad campaigns. They will suggest to you the best practices.
What Is the Flipkart Affiliate Registration Process?
You may be doubtful of joining as a Flipkart affiliate.
For creating account as an affiliate, you should have an account in Flipkart.com.
If you are new to Flipkart, then create a new account using your mobile number and email address.
You can access your affiliate dashboard on this page, https://affiliate.flipkart.com/.
To become an affiliate at Flipkart, you need to have an active website or app.
Unless you have a website or app, Flipkart won't allow you to join their affiliate program.
How Does the Flipkart Affiliate Program Works?
Once you successfully set up your affiliate account, you can get access to the affiliate dashboard page.
The affiliates can track their earnings, orders, clicks, pending payments and approved payments on the affiliate dashboard.
Let us take an example of a product that we want to promote.
Say, we search for a "SEO book" to generate product link/banner.

Once you search for it, you will be redirected to the new page as shown in the image below.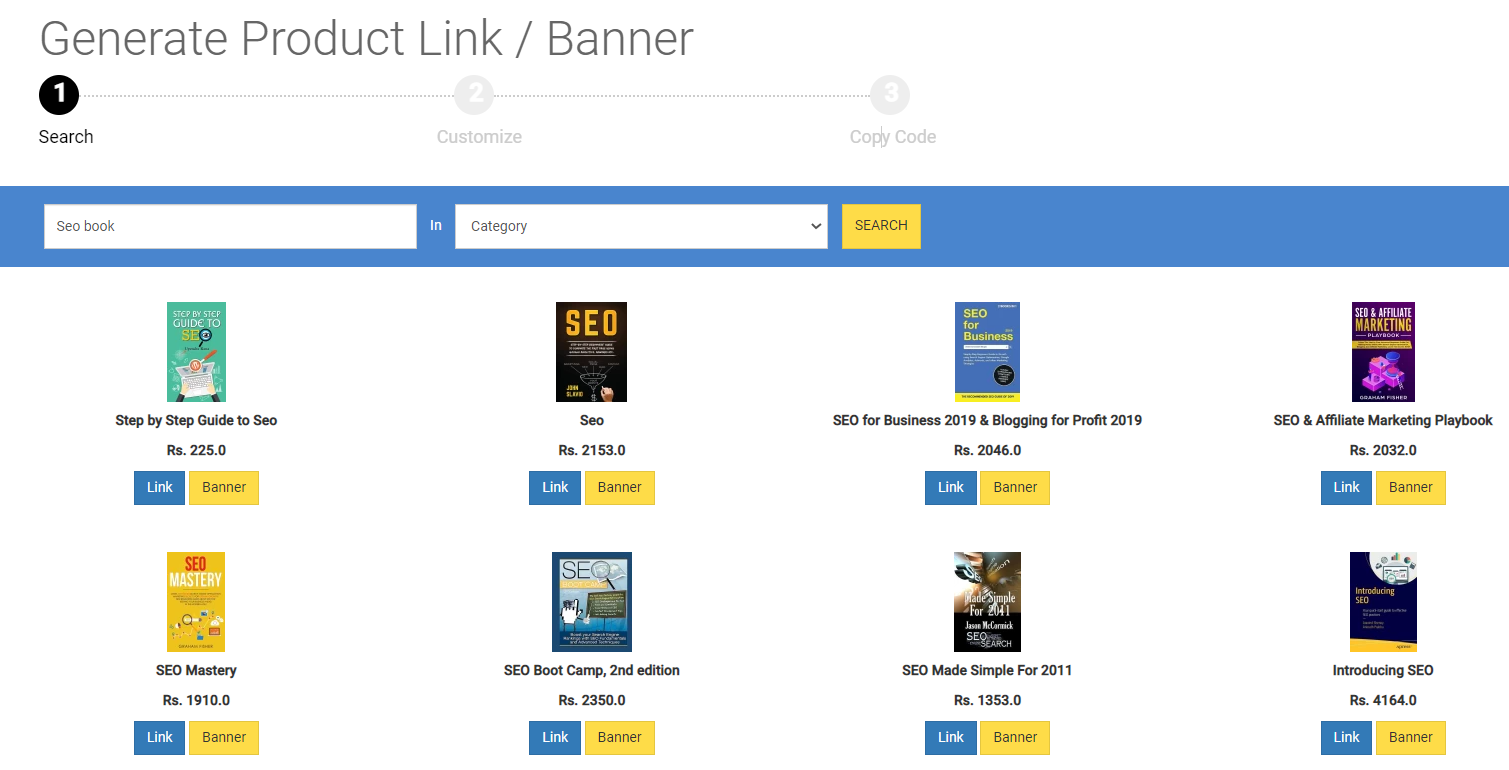 This page contains different products related to the item searched for.
Say, for example we want to promote the "SEO & Affiliate Marketing Playbook" book.
You can click Banner option to get the banner code.
The affiliates can customize the banner by its text color, link color, background color, content border and show price option.
Similarly, you can click the Link option to get the product affiliate link code.
You can either use the product banner or link on your website to attract your site's visitors.
Coming to the Affiliate Link Generator option, you need to paste the desired product URL.
Say for example, you want to promote Apple iPads Flipkart page on your website.
You need to copy and paste the product's page URL in the affiliate link generator page as shown in the image below.
Once you press the Go button, you will get your Flipkart affiliate link of the product or product's page.
You can simply use it on your website, emails or social media.
When someone clicks on your affiliate link and purchases a product or products, the commission will be generated.
However, there are a few rules the Flipkart affiliates must follow.
You will receive the affiliate commission from Flipkart only when you satisfy the conditions below:
The cookie period is 30 minutes. Whenever a customer clicks on your affiliate link and orders a product within 30 minutes, you will be eligible to receive the affiliate commission. However, you can receive commission only when the referred customer pays and receives the product.
Flipkart has a 30-day cancellation policy. If a customer requests a refund within 30 days of the policy period, then the affiliate commission will get deducted. To receive the full affiliate commission, you have to wait for 30 days after the customer's sale.
How Can Affiliates Promote Flipkart's Products?
To promote Flipkart's products, the affiliates can follow these effective marketing methods:
Websites or blogs:
Being an affiliate, you can place your affiliate link or product banners on your websites to attract an audience.
Promoting products that match your website or blog's niche is crucial for maximizing profits.
Say, for example you are a travel blogger. Then promoting travelling luggage, bags, suitcases will be a great affiliate marketing strategy.
Instead, if you start promoting health and nutrition products on your travelling blog, it will be a big disaster. Even if you are successful in getting few sales, that doesn't make much sense.
Product reviews:
Write comprehensive reviews on Flipkart products that you want to promote.
Never write about something that you never experienced. Only promote those products that you have bought from Flipkart.
This is important for increasing your credibility as an affiliate marketer.
Along with product reviews, never fail to include your Flipkart affiliate links.
YouTube channel:
Create a YouTube channel to promote Flipkart products.
Keep posting videos of product reviews and share the affiliate links in the descriptions.
Optimize these videos to reach a broader audience for earning affiliate commissions.
Newsletters:
The best way for affiliates to promote affiliate products is Email marketing.
You can set up subscription boxes on your websites to grab Emails from your audience.
In the same way, you can use social media for building connections.
Send periodic newsletters about Flipkart products reviews along with your affiliate links.
Social media:
You can create groups and pages on social media to promote products.
Share blog posts of Flipkart products reviews consistently.
Discuss topics related to the products and start recommending the best Flipkart products.
Ad campaigns:
The affiliates can run the PPC campaigns but never bid on keywords related to Flipkart.
You can run ad campaigns to bring traffic to your websites. Thereby when someone buys a product from your affiliate link, you will get rewarded.
What Are the Flipkart Affiliate Marketing Commission Rates?
The affiliate commissions vary by category and customer status.
As you could see in the image, the affiliates can earn from Grocery (selected cities), Books and general merchandise, Home, Furniture, Electonic devices and accessories, fashion and lifestyle categories, large appliances, small appliances, mobile phones (Tier A, Tier B and Tier C), Flipkart gift card, gemstones and silver coins.
Please note that the commission rates, products and categories may change in future.
What Are the Affiliate Payment Methods?
The affiliates can receive payouts from 2 options: Gift voucher and electronic fund transfer, a.k.a. EFT.
There will be a threshold for payment options.
However, you need to check the minimum payouts with the Flipkart customer support team.
To receive the affiliate payment from Flipkart, one should submit the following details:
Payee name (The name should match the name in the PAN card)
PAN details: They will ask you to upload the PAN document.
Bank account number
IFSC code of your branch where you have a bank account.
Mailing address
Mobile or landline number
At the time of writing this article, the affiliates must upload PAN document, cancelled cheque of your bank account, and Non-GST Declaration Form. Unless you submit these documents, Flipkart won't process your affiliate payments.
Note: The affiliate rules may tend to change in future.
What Are the Advantages of the Flipkart Affiliate Program?
The benefits of this affiliate program are as follows:
The Flipkart affiliates can join this program for free.
Flipkart is a leading ecommerce giant in India. People always trust reputable brands. So, it will be easier for the affiliates to convince customers to buy Flipkart products.
You can promote any number of products on your website and make money out of them.
The affiliates can use product banners or links on any number of websites. But the websites must follow the Flipkart rules.
Cons:
Even though there are few benefits of this affiliate program, there are downsides too.
The Flipkart support team doesn't respond promptly to the affiliate's queries. There is no live support.
Flipkart's cookie period is very less compared to other affiliate programs.
Flipkart may take down your account and freeze your payments if you are unable to send referrals for a longer time.
Flipkart's affiliate program is restricted to Indians only.
The commission rates of some categories and products are low.
The rules for affiliates are quite rigid.
What Are the Affiliate Tools Offered by Flipkart?
Push content widget: Basically, the affiliates can copy the banner codes of 3 sizes; 300×250, 728×90 and 120×600.
Flipkart affiliate bookmarklet: This bookmarklet is useful for generating affiliate links without logging into your dashboard.
Promotional widgets: You can copy the code of featured deals, best seller, search widget, related products and search bar.
Promotional banners: The promotional banners mainly contain codes of E-gift vouchers you should choose from.
Product links & products: You can search for a specific Flipkart product from a specific category. Later you can convert the product link into a unique affiliate link.
How Can Affiliates Contact Flipkart Support Team?
If you have any questions about the Flipkart affiliate program, then contact their support team on this page, https://affiliate.flipkart.com/contact-us.
They may take up to 3 working days to respond to your query.
FAQ
Is Flipkart Affiliate Program Closed (Why Was It Stopped for A while?)
Answer: To all who were asking why Flipkart affiliate registration is not working, this answer may help you. Actually, Flipkart was acquired by Walmart in 2018. From May, 2018 the new Flipkart management had stopped accepting new affiliates. They scrapped the old affiliate program and designed a new affiliate program with new rules. The affiliate program has been operational since 2022.
Who can become a Flipkart affiliate marketer?
Answer: Any Indian individual who owns a website or app can be a part of this affiliate program. Just remember to follow all the affiliate rules by Flipkart.
How to earn money from Flipkart affiliate?
The affiliates should promote the Flipkart products to reach the right customers.
Make sure to pick the products that are relevant to your audience and also offer high commission rates.
Researching about buyer's behavior, interests, and demographics will certainly help in boosting sales.
Apart from research, the Flipkart affiliates should also focus on creating engaging and informative content.
The articles can be comparisons between products, infographics, graphs, tutorials and case studies.
You must track your clicks, earnings, and conversions to identify which products and promotions are performing well.
The ranges of affiliate commissions are 1%-15% which are similar to amazon affiliate commission rates.
What Is the Final Conclusion?
Flipkart affiliate program is idle for niche-based sites or blogs.
One should pick a product from a profitable niche that offers high commission.
Flipkart's affiliate program is not spam; they are legit. You can definitely make money from their affiliate program.
However, you should carefully read their terms and conditions before joining the Flipkart affiliate program.
If you are an affiliate of Flipkart, then please share your experiences in the comments section.
We hope this Flipkart affiliate review is an eye opener to new affiliates.