PropellerAds Media Review : Make Money From Your Website Traffic
Propeller Ads Media Review
The Propeller Ads Media is a new digital advertising network started in 2012. It is one of the fastest growing advertising companies in the recent years. There was a mixed feedback from Propeller Ads Media publishers when I inquired about this network. Apart from contacting publishers directly I searched for the review Of Propeller Ads Media on Internet.
Even there I found the mixed response about Propeller Ads. Publishers who haven't gained much from this program must introspect themselves about the facts. The reason could be inadequate traffic or traffic from locations other than Europe and Australia. The Propeller Ads really work well for the sites getting traffic from Europe, US, Canada, UK and Australia.
From my perspective no ad network is outstanding.
The rule even applies to Google AdSense. They simply bans publishers without valid reason.
Usually the results vary from publisher to publisher. Some publishers have certainly benefited from this program. This ad network would have closed by now if that doesn't happen. I could say that Propeller Ads Media is a trustable ad network. I don't say that this is the best advertising network but you could see it as a good alternative to Google AdSense.
The revenue model of Propeller Ads Media is CPM. Apart from it publishers could gain more with CPC. I heard that the CPM ranges from 0.04-0.20 but it all depends on the niche, traffic, location, advertisers etc. It is better to experience yourself before concluding it.
Best features of PropellerAds Media :
1. Unlike other networks there are no traffic restrictions to join this program.
2. Any one from any part of the world can join as a publisher.
3. Sign up and approval is very easy.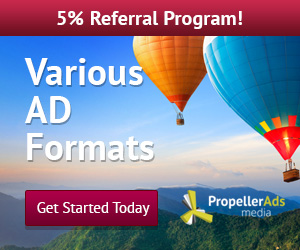 4. 100% fill rate
5. Publishers have a great chance to boost up earnings with their pop-ups and pop-under. Live streaming and gaming sites could probably perform well with Pop-ups.
6. CPM rates are far better when compared to other networks.
7. Prompt response from support team.
8. Being a publisher you have access to wide range of advertising formats : Banners, Onclickads, In-banner video, sliders and sponsored links. Again publisher has to decide which format works well for his/her niche.
9. Detailed reporting system
10. Publishers can earn 5% commission with the Propeller Ads Media referral program.
11. Publishers could block specific advertisers by contacting Propeller Ads support.
Payment info :
Propeller Ads Media pays it publishers on Net 30 basis. The threshold payment is $100 when paid via Payoneer whereas it is $500 for wire transfer.
Cons :
1. Pop-up and Pop-under may fetch you huge earnings but it harms site reputation in the long run. Users may not return to your site if pop-ups irritate them.
2. CPM is low if your traffic comes from Asian countries rather than Europe, US, UK and Australia.
Final Conclusion :
Propeller Ads Media works well for entertainment and gaming niche sites. It can also work well for other niches if they are successful in attracting huge traffic from European and US traffic. Being a Propeller Ads Media publisher you could skyrocket your earnings with Pop-ups and Pop-unders.