Keap Partner Program: 3 Proven Ways To Increase Your Income
The Keap partner program helps you to learn, earn and explore technology.
Are you a small business or an established business owner?
If yes, then Keap is a perfect solution for your CRM, sales, marketing and payment needs.
Keap helped many small businesses to grow with their software.
Have you heard about Infusionsoft?
The Infusionsoft is now Keap.
What Is Keap Partner Program?
The Keap is inviting partners across the globe to learn and earn through their platform.
At the time of writing this article, there are three ways to work with Keap:
Certified Partner
Referral Partner
Developer Partner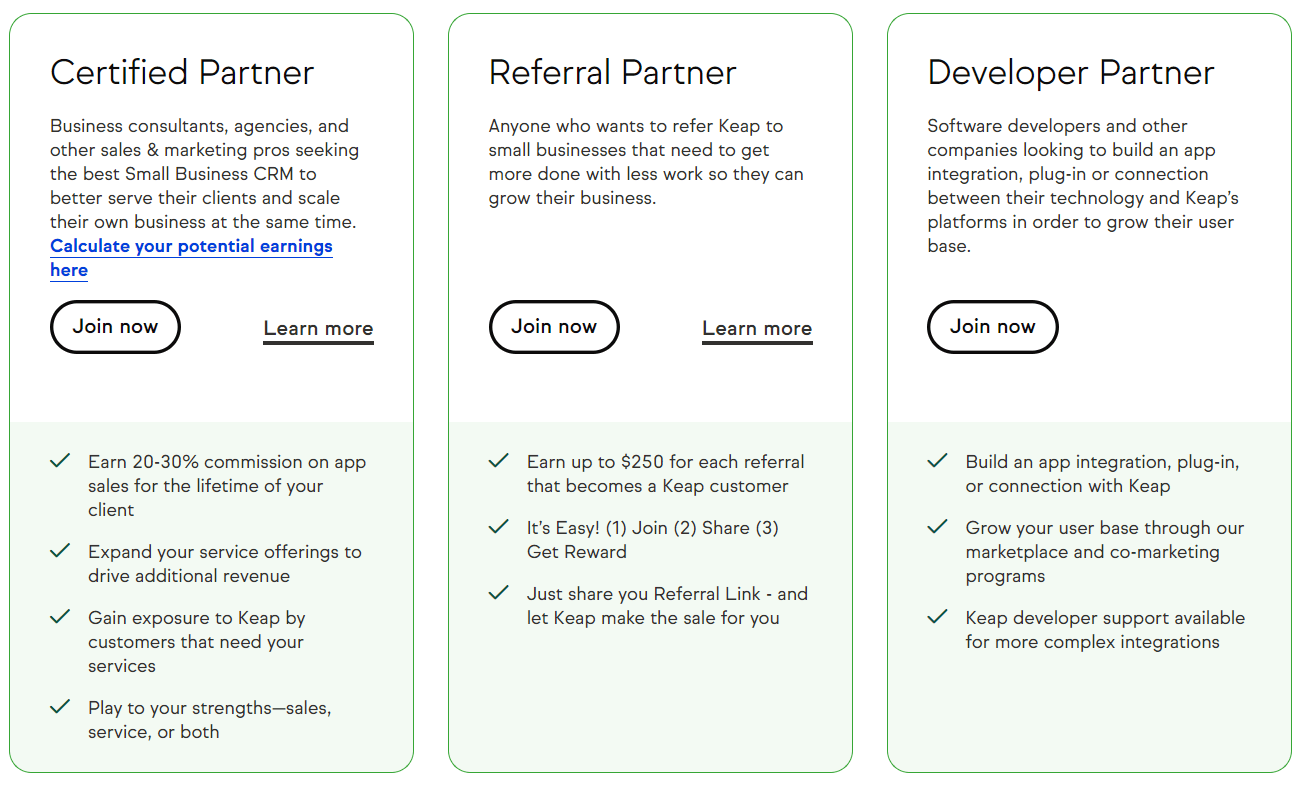 What Is Certified Keap Partner Program and How Does It Work?
The certified Keap partner program is open to sales & marketing professionals, business owners, small businesses and agencies.
One should undergo certification training and complete capstone project before finishing the certification.
To become a Certified keap partner program, you need to certify within 21 days.
Keap says that "It's self-paced and typically takes 8-20 hours depending on your familiarity with Keap, and time it takes to complete your Capstone project. Most Partners finish the certification within 14 days."
You will acquire deep knowledge of business growth, sales, marketing, CRM, Keap products, tools and strategies.
The keap partners can start selling once you enroll in the certification course. However, the commission will get credited after you complete the certification.
The 3 steps involved in the partner certification are:
Talk with a Partner Development Manager.
Complete the certification program training
Sign the partner agreement and start growing your business.
How Much Can Certified Keap Partner Makes?
You can make from 20% to 30% recurring commission on the monthly/yearly subscriptions of the Keap apps and services.
The certified partners will keep receiving commissions as long as the customer stays with Keap.
What Are the Best Features of The Keap's Partner Certification Program?
You will get access to a partner edition software for managing and tracking your clients' activities.
The certified partners will get listed in the marketplace where clients can get in touch with them directly.
When any certified partner gets engaged by any prospective client, the Keap will not charge a single penny. You can keep 100% profit.
The certified pro partners are eligible to receive direct leads from Keap.
The certified partners will receive insightful support from dedicated partner manager or success coach on areas like CRM, sales, marketing, strategies, small business, growth and software. You ask anything, the partner manager is ready to answer.
The Keap can also provide Marketing Development Funds to pump your business. However, not everyone is eligible to receive funding. The Regional Partner Manager, Region Leader and Director of Partner Sales will jointly review and take the decision. Mainly they would prefer high ROI businesses.
Being a certified partner, you will get notified about all Keap events. Apart from it, you will get connected to marketing professionals through Facebook community page.
If you have any query related to the certified Keap partner program, then write to [email protected].
Okay let's move into the second type of Keap partner program i.e. referral program.
What is Keap Referral Program and How Does It Work?
The Keap referral program lets you maximize your earnings in a simpler way.
All you need to do is to promote the Keap products and get commission in return.
You can also have a direct talk with small business owners. Explain how Keap will be helping their business grow.
At the time of writing this article, the Keap referral program is managed by Partnerstack.
To join the Keap referral program, visit https://keap.partnerstack.com/.
The good news is that you will get approved instantly.
Share your affiliate link with your fellow business owners, co-workers, Entrepreneurs, sales & marketing experts or anyone who is ready to scale up their businesses.
Apart from it, you can E-mail people or share links on social media.
How Much Can Keap Referral Partners Make?
The Keap partner can make $100 commission for every Keap Lite sale.
The keap will pay $250 when you successfully sell Keap Pro/Keap Max/Keep Max Classic.
Once your referral subscribes for 2 months, your commission will get credited. You need an active PayPal or Stripe account to receive the funds.
What Are the Best Features of the Keap Referral Program?
You do not need to wait for approval. The Keap approves your account instantly. All you need is your name and E-Mail address.
The cookie period is 90 days. When someone clicks on your affiliate link and comes back to subscribe within 90 days, you get paid.
The commission rates are quite competitive among peers.
You can track your referrals, revenue and performance in real time. The referral partners will also have access to resources.
The Keap referral partners can create customized links.
Cons:
Certified Keap partners are not allowed to join the referral program.
When any referral pays for the first month and does not renew further, then you won't get a single penny.
If you have any queries about the Keap referral program, then write to [email protected].
Keap Developer Partner
This is the 3rd way to work as a Keap partner.
Are you a software developer or owner of a software company?
If your answer is yes, then Keap is inviting you to join as a developer partner.
You can embed Keap software in your app or plugin.
The Keap won't charge any money for becoming a developer partner.
Once you successfully integrate Keap in your application, you can apply as a developer partner. Eventually, you get listed in the marketplace.
The marketplace is the best place to grow your user base.
Visit https://developer.keap.com/ to join as a developer partner.
What Is Keap Affiliate Program?
The Keap is inviting affiliates across the world to signup for their affiliate program.
The affiliates have been offered 3 types of commissions:
Demo signup – $10 per lead
Trial Signup – $25 per lead
Trial conversion – $300 per sale
There is not much information on their affiliate page https://keap.com/lp/affiliate
One must contact the affiliate manager prior to joining Keap's affiliate program.
What Is the Final Conclusion?
The Keap partner program seems lucrative for everyone.
Whether you are a small business owner or an affiliate marketer or an independent software developer, the Keap has a solution to grow your income or business.
If you are confused about choosing the right partner program, then write to [email protected].
Have you worked as a Keap partner?
If yes, then we would love to listen to your work experiences.
Hope this Keap partner program review helps the enthusiasts who are trying to scale their business and income.
Become a Keap partner and grow your business or increase your income!