Give Your Online Business a Boost with Friendly Call Center Services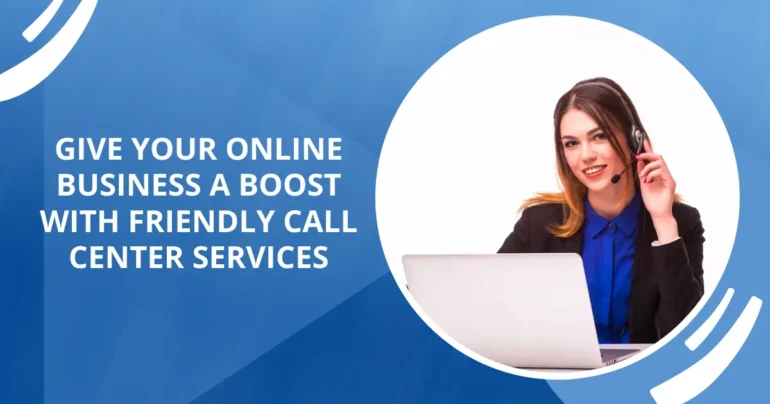 In today's hyper-competitive digital marketplace, your business's success hinges on the quality of your products or services and the caliber of customer interactions. Imagine this—you're on the verge of losing 78% of your consumers due to poor customer service, according to American Express.
Let that sink in. This statistic underlines the urgency to adopt strategies that prioritize client relations, and one such game-changer is friendly call center services.
Injecting warmth into every customer interaction, they can transform one-time buyers into lifelong patrons while giving your online business the boost it needs to scale new heights.
Why Call Center Services are Essential for Online Businesses
In the digital landscape, the role of call center services in online businesses is pivotal. Their impact stretches beyond answering phone calls and crafting meaningful customer experiences. They bridge the gap between digital convenience and personal touch, fostering strong customer relationships.
For online businesses, exceptional customer service is often the distinguishing factor in a highly competitive market. A call center service breathes life into this pivotal aspect. Call centers enhance customer satisfaction by offering prompt, personalized responses, directly influencing brand loyalty and retention.
Moreover, call centers are a goldmine of customer data. Insights drawn from this data empower businesses to refine their services in line with customer expectations. As a result, online businesses can leverage this data-driven strategy to outperform competitors and gain market dominance.
Integrating call center services into your online business is crucial for your trajectory toward success. To learn more about their role and benefits, click here. It's worth noting that customer service goes beyond being just a department in online businesses.
The Benefits of Outsourcing Call Center Services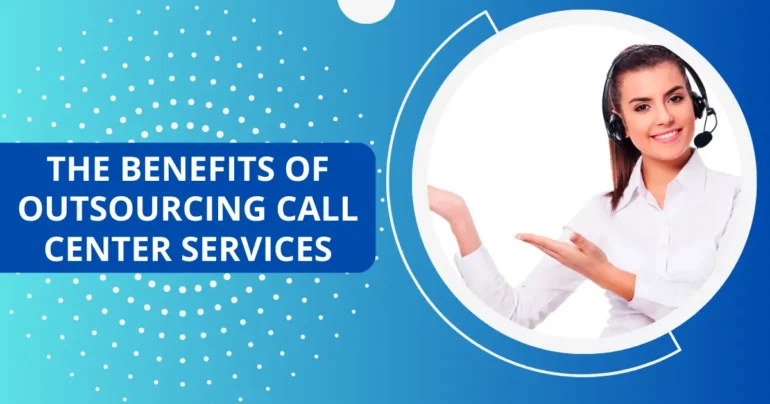 When you outsource call center services, it's like hitting the business jackpot—saving costs, scaling smoothly, and supercharging your customer service. Let's unpack this further.
1.              Improved Customer Support
A pivotal benefit of outsourcing call center services is the noticeable improvement in customer support. When you hire a team of professionals, you're paying for their time, expertise, and proficiency in delivering top-notch customer service. These specialists understand the ins and outs of handling customer queries, complaints, and feedback effectively.
They ensure every customer interaction is handled with the utmost care, tact, and professionalism. Their prompt and polite responses can transform a potentially harmful experience into a positive one, strengthening your business's reputation.
Outsourced call center services also bring their vast experience dealing with various businesses and industries. They utilize proven strategies and techniques, guided by a deep understanding of customer empathy, to enhance customer support, thus propelling your business in customer satisfaction.
Outsourcing your call center services is one of the most effective ways to improve customer support. It's an investment that promises significant returns in the form of happy, loyal customers and a stellar brand reputation.
2.              24/7 Availability
One of the significant advantages of outsourcing call center services is the assurance of 24/7 availability. This constant availability is crucial in the digital age, where customers need support all the time. It's an age where time zones blur, and customer queries don't confine themselves to a 9-to-5 schedule.
Imagine a customer halfway across the world struggling with a purchase on your site in the middle of their day, which might be the middle of the night for you. A timely response due to time differences can lead to satisfaction and potential loss of business. This is where the outsourced call center shines, with a dedicated team ready to assist, irrespective of the time.
24/7 availability means that your customers are always safe. They know that help is just a phone call away, no matter the time. This accessibility drastically enhances their experience and instills a sense of trust and reliability toward your brand.
Beyond the immediate resolution of issues, the round-the-clock service also means quicker collection and processing of feedback. These insights can help your business swiftly identify and rectify any areas of concern, improving overall service quality.
3.              Multilingual Support
Multilingual support is indispensable in online businesses catering to a global clientele. Outsourced call center services often excel in this area, breaking language barriers and enhancing customer engagement.
Imagine the relief and comfort of a customer when they converse with a customer service agent in their native language. This sense of being understood improves customer interactions, reduces miscommunications, and can lead to more effective problem resolution.
Furthermore, multilingual support can drive business growth. Communicating in multiple languages allows you to tap into new markets, reaching potential customers previously unreachable due to language limitations.
Outsourced call center services that provide multilingual support offer a unique advantage in the global market. It's not just about understanding different words; it's about understanding different worlds. In essence, multilingual support brings the world to your online business's doorstep, leading to an enriched customer base and heightened brand reputation.
4.              Cost Savings
Outsourcing call center services brings substantial cost savings to the table. An in-house call center demands substantial investment—staffing, training, infrastructure, and technology. Outsourcing shifts these costs to the service provider, trimming down your expenditure.
But the benefits are more than just in the prominent places. Think of the continuous costs—training refreshers, tech upgrades, and equipment maintenance. These add up over time but are handled by the outsourced service provider, freeing your budget and time.
Consider scalability too. As your business evolves, so does your need for customer support. Outsourced call centers offer the ability to adapt to these changing needs, allowing scalability without excessive costs.
Outsourcing your call center services is an innovative, economical choice. It offers a two-fold advantage—maintaining high-quality customer service while controlling costs. It's like having and eating your cake, providing more for less.
5.              Focus on Core Business Activities
Outsourcing call center services enables businesses to zero in on their core activities. Every business has a finite set of resources to allocate, and directing them to where they can make the most significant impact is critical.
When you offload customer service to a professional external team, it liberates your internal resources. Your team can then focus on strategic tasks like business growth, product development, and market expansion.
Customer service can be demanding and time-consuming, particularly when your business scales. Managing it in-house could distract you from your primary business goals. However, an outsourced call center shoulders this responsibility, ensuring customer support runs like a well-oiled machine while you focus on your primary business operations.
Outsourcing call center services can streamline your business processes and maximize efficiency. It lets you do your best, concentrating your resources on the activities that drive your business forward.
Choosing the Right Call Center Service Partner
While outsourcing call center services offer numerous benefits, picking the right partner is critical. It's about finding a service provider that aligns with your business needs, goals, and values, ensuring seamless integration and maximum efficiency.
Let's explore how to make the right choice.
1.              Industry Experience and Expertise
When selecting a call center service partner, consider their industry experience and expertise. They should have a proven track record in your sector, understanding its unique demands and customer expectations.
Such specialized knowledge enhances the quality of customer service. They'll likely have efficient strategies to resolve common issues, ensuring swift, practical solutions for your customers.
Their fluency in industry-specific terminology can improve communication and customer satisfaction. It's akin to having an expert guide navigate a tricky path—they understand the route, the potential hazards, and how to reach the destination efficiently.
Opting for a call center partner with relevant industry experience is like turbocharging your customer service. It's about leveraging their insights to drive your customer support to new heights.
2.              Reputation and Customer Reviews
Another crucial factor to consider when choosing a call center service partner is their reputation and customer reviews. These provide invaluable insights into the quality of their services, professionalism, and ability to deliver on their promises.
Take time to delve into their past and current client reviews. Look for trends in customer feedback—are there frequent praises for their responsiveness or recurring complaints about delays? These reviews can give you a real-world picture of what to expect from the call center service.
A strong reputation is built over time. It's a testament to consistent quality service over time. Choosing a call center service partner with a solid reputation and positive customer reviews can go a long way in ensuring top-tier service for your customers.
3.              Technology and Infrastructure
The technology and infrastructure that a call center service partner uses can significantly impact their efficiency and effectiveness. Before making a choice, ensure they employ up-to-date technology that aligns with today's digital demands.
Modern call center technology includes automatic call distribution, interactive voice response, call recording, and real-time analytics. These functionalities streamline operations, improve service quality, and provide valuable insights for continual improvement.
Infrastructure is another critical consideration. Does the service partner have a reliable system that guarantees minimal downtime? A system failure could mean lost calls and frustrated customers, damaging your business reputation.
When choosing a call center service partner, their technology and infrastructure shouldn't just meet current standards and be geared for future advancements. It's about staying ahead of the curve to provide your customers with the best possible service.
4.              Customization and Scalability
Customization and scalability are other vital parameters when selecting a call center service partner. Every business has unique needs, and your call center partner should be willing and able to tailor their services to meet them.
A bespoke solution, ranging from the level of agent training to how calls are handled, ensures that your customers receive a service that matches your business ethos and standards. It's about creating a seamless extension of your brand.
Scalability is equally critical. As your business grows, your customer support requirements will change. The call center service partner should be flexible enough to scale their services up or down according to your evolving business needs without compromising quality or efficiency.
The ideal call center service partner should offer a tailored, adaptable service that grows with your business. It's about finding a fit for your business now and in the future.
5.              Security and Data Protection
Data security and protection are vital in our increasingly digital world. When choosing a call center service partner, their approach to these issues should be a top concern. They deal with sensitive customer information daily, and robust protections must be implemented.
Look for a provider with stringent security measures to guard against data breaches and misuse. This might include data encryption, secure access protocols, frequent security audits, and adherence to data protection regulations.
Equally important is how they handle data privacy. They should uphold strict policies that respect and safeguard customer privacy, aligning with your privacy policies and any applicable legal requirements.
Outsourcing your customer service to a call center service provider shouldn't put your customer data at risk. The ideal partner will value your customers' data as much as you do, providing peace of mind alongside their services.
Integrating Call Center Services with Your Online Business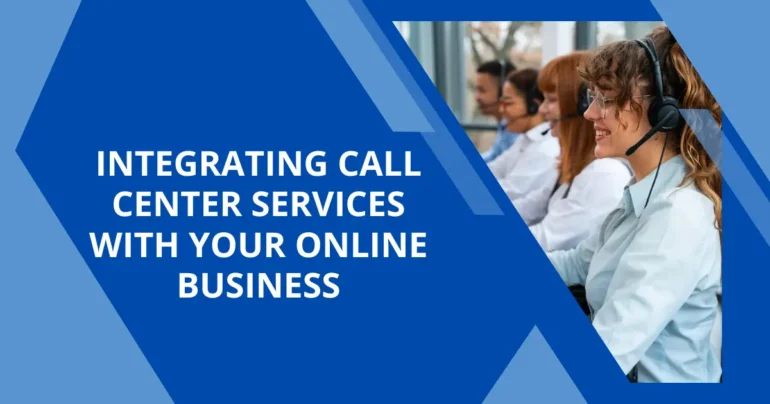 Integrating call center services with your online business requires a strategic approach. It can significantly enhance your customer service and overall business performance.
Let's explore how to make it happen.
1.              Seamless Communication Channels
Seamless communication is a cornerstone of the successful integration of call center services with your online business. In today's digital age, customers expect multiple, convenient ways to reach out for support, whether it's via phone, email, live chat, or social media.
Your call center service partner should be capable of managing these diverse channels effectively. They should ensure smooth transitions between channels, providing customers with a consistent, seamless experience. If a customer starts a conversation via chat and then switches to a call, the transition should be smooth without the customer repeating information.
These channels should be integrated with your business systems to provide agents with easy access to customer data, enhancing their ability to offer personalized and efficient service.
Creating seamless communication channels when integrating call center services with your online business can significantly improve the customer experience, fostering customer loyalty and boosting your reputation.
2.              Training and Knowledge Transfer
Training and knowledge transfer are crucial when integrating call center services with your online business. Your call center agents will be your company's voice to the customers, so they must be well-equipped to represent your brand correctly.
Your call center service partner should thoroughly train their agents about your products or services, company policies, and brand voice. This requires effective knowledge transfer from your team to theirs, so they can accurately answer customer queries and resolve issues.
Regular training updates are also essential to inform agents about new product launches, policy changes, or any other updates relevant to customer service.
Comprehensive training and practical knowledge transfer equip call center agents to provide exceptional customer service and ensure they represent your brand accurately and consistently. This can significantly enhance customer satisfaction and reinforce your brand identity.
3.              Performance Monitoring and Quality Assurance
Monitoring performance and assuring quality is critical to maintaining high standards when integrating call center services with your online business. It's not just about setting up the service; it's about continually evaluating its effectiveness and making necessary improvements.
Your call center service partner should have robust systems for monitoring agent performance and measuring key metrics like call resolution time, customer satisfaction scores, and first-call resolution rates. This data can provide valuable insights into areas of strength and where improvement is needed.
Quality assurance measures are equally important. Regularly listening to call recordings and providing constructive feedback to agents can significantly enhance service quality.
A continuous focus on performance monitoring and quality assurance is critical to ensure your outsourced call center consistently delivers top-tier customer service. It's about meeting, and exceeding customer expectations, fostering loyalty, and driving business growth.
4.              Feedback and Continuous Improvement
Feedback and continuous improvement are vital when integrating call center services with your online business. They enable you to refine your customer service, adapting to evolving customer needs and expectations.
Your call center service partner should have mechanisms for gathering and analyzing customer feedback. This could be through post-call surveys, social media comments, or direct feedback during calls. Understanding customer sentiments can highlight areas of excellence and reveal opportunities for improvement.
Integrating call center services with your online business is a collaborative activity. It's an ongoing process of gathering feedback, learning, and improving to ensure your customer service remains top-notch and drives your business forward.
Conclusion
Call center services have emerged as a critical asset for online businesses, adding significant value by improving customer support, providing 24/7 availability, offering multilingual support, and allowing businesses to focus on core activities while saving costs.
Choosing the right call center service partner, however, requires careful consideration. Factors such as industry experience, reputation, technological infrastructure, ability to customize and scale services, and commitment to security and data protection should guide your choice.
Integrating these services into your online business involves creating seamless communication channels, ensuring thorough training and knowledge transfer, monitoring performance and assuring quality, and having feedback and continuous improvement mechanisms.
Integrating call center services with your online business is about more than just outsourcing customer support. It's about creating a strategic partnership that enhances customer experience, reinforces your brand identity, and contributes to your business's growth and success.