Foremedia Review (2023): Is it a Scam or Legit Network?
We will be going to talk about the Foremedia review in this post.
But before reviewing it, you must know about Foremedia beforehand.
Online advertising is still the best way to make money for site owners.
Everyone is familiar with AdSense, but there are tons of alternatives one can look at.
Related: Learn about Monetag ad network; a strong AdSense competitor.
Let us talk about Foremedia ad network now.
What is Foremedia?
Foremedia is a self-serve ad network that focuses on increasing ROI of advertisers and rewarding publishers for monetizing the traffic.
This Israel based ad network was launched in 2020.
The advertisers run ad campaigns to promote their websites or landing pages. Basically, advertisers intend to sell their products or services on the pages.
The publishers make money by placing ads on their websites.
In simple words, Formedia acts as a bridge between advertisers and publishers.
This ad network is similar to Google AdSense when it comes to functionality.
You must use Foremedia ads to know whether their performance matches that of AdSense.
Foremedia Claims to serve over 10,000 publishers worldwide.
Foremedia Review:
We will be going to review Foremedia the publishing program.
You will learn how to set up ads and monetize your websites using Foremedia.net.
How to Join as a Foremedia Publisher?
Go to https://foremedia.net/publishers/ page for signing up as a Foremedia publisher.
In Step 1, you will be asked the basic details like Name, Email, Password etc.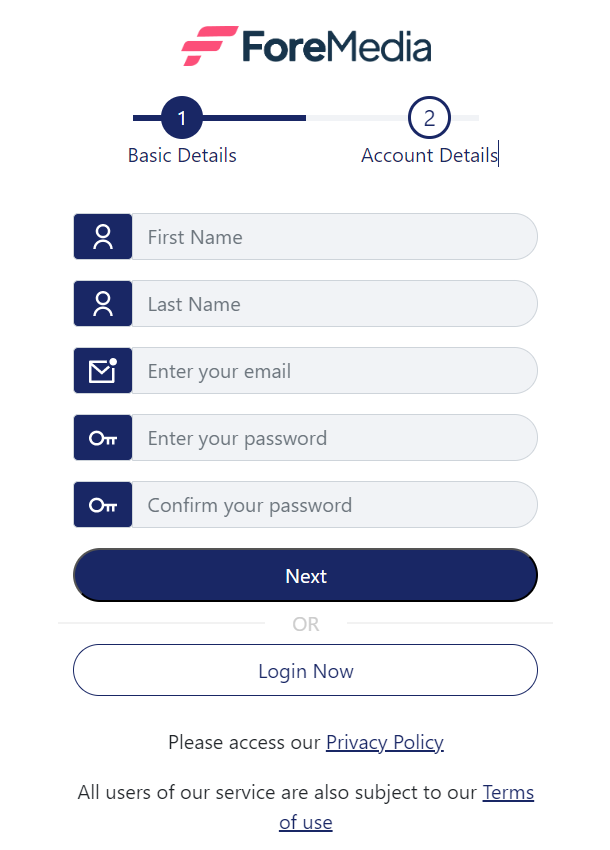 Once you are done with step 1, you have to fill in a few more details.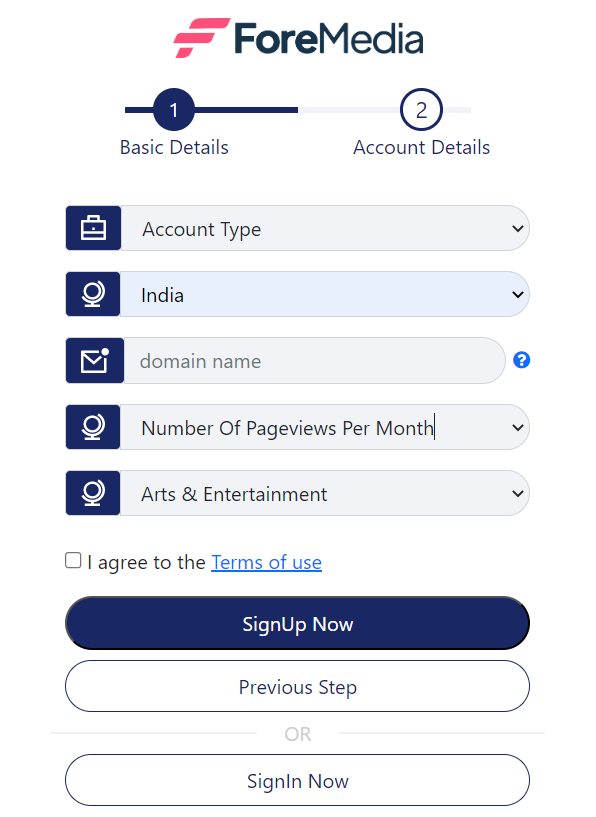 Under account type, you will have to select an option from Independent, Company, Small business and others.
You have to mention the pageviews that your website generates.
Once you successfully complete the signup process, you will have access to the publisher account dashboard.
How to Get Started with the Foremedia Publisher Program?
After email validation, you need to login into your publisher's dashboard.
It would look like this as shown in the image below.
There are 4 steps involved in setting up ads as a Foremedia publisher.
Step 1:
Ads.txt setup: When you click on the Get ads.txt button, the code will be displayed. You need to make a text file named ads.txt and paste the ad code. Then you should upload this text file in the root directory of your domain. If there is an existent ads.txt file, you can add the code and save it.
If you have a WordPress website, then you can use Ad Inserter plugin to save the ads.txt code.
Similarly, in the case of Blogspot blog, you can paste the ads.txt code in Custom Ads.txt section under Monetization option.
Step 2:
Analytics setup:
In this setup, you need to copy and paste the code in the <head>.
WordPress blog: Install the custom CSS & JS plugin, open the Add Custom HTML page and paste the analytics code. The Header and In Frontend options should be enabled. Now publish it.
Blogspot blog: Go to Template-Edit HTML and search for <head>.
Paste the code between <head> and </head> and save the template.
Step 3:
You need to add your phone number.
Step 4:
The final step is validation time. Foremedia team may take up to 1 week to validate your website.
After completing 4 steps, you are ready to show the Foremedia ads on your website.
Sites:
Under the sites section, you'll see all your websites listed along ID, impressions, clicks, revenue, and status.
Foremedia:
Under Foremedia section, the publishers can find the estimated earnings (Today, Yesterday, Last 7 days, and Last 30 days), balance, visitors, pageviews, RTB revenue etc.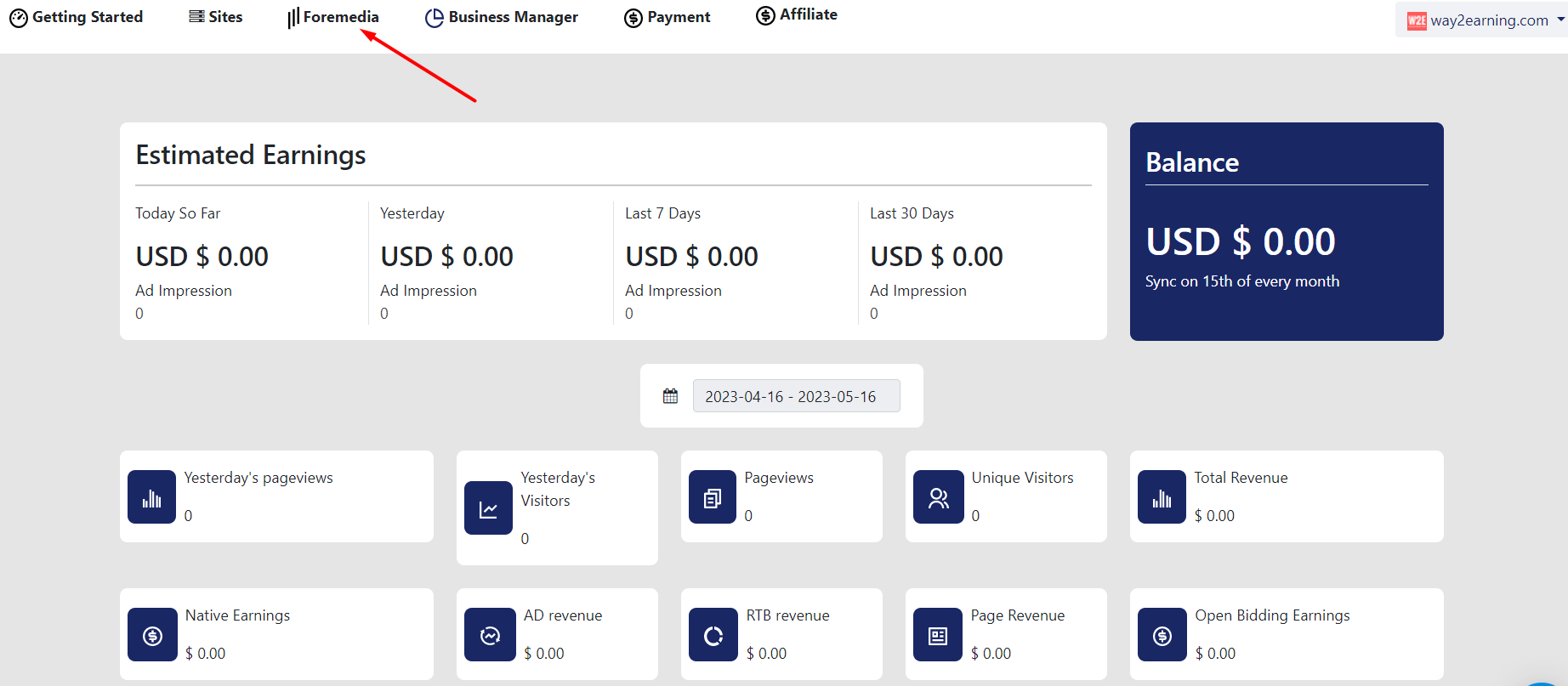 The publishers can track the revenue by country, revenue per device type, page views per day, active users per day, visitors and browser usage.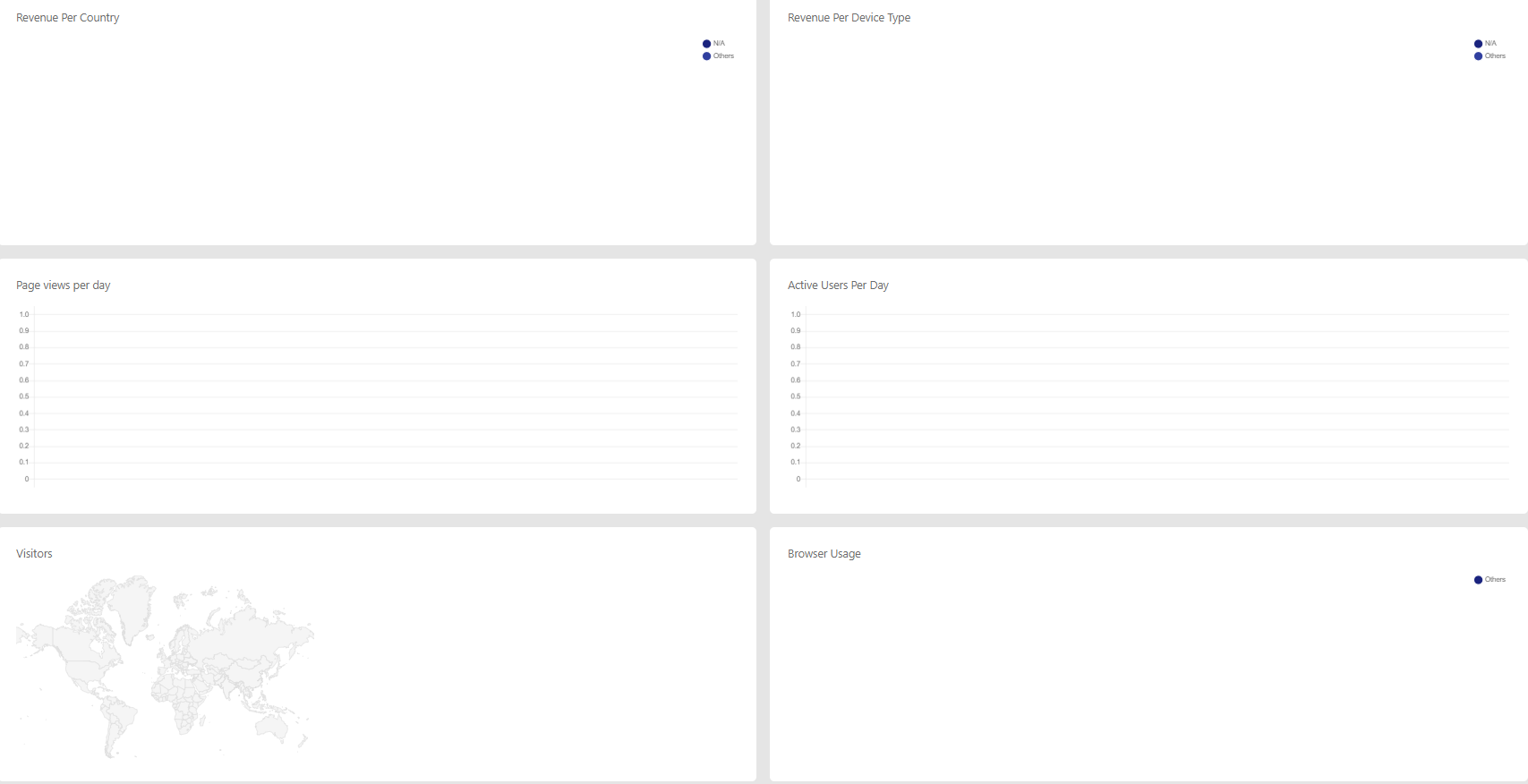 Business manager:
Under this page, the publishers can find the codes of banners that you can use on your website.
Please make sure that Interstitial Ads Setup, Context Related Hyperlinks and Context Related Hyperlinks options are enabled. However, you can also disable them. But enabling these options will help you in increasing revenue.
What are Foremedia Ad Formats?
Foremedia is offering 4 types of ad formats:
Display ads: These are mainstream ads that are shown as banners or videos.
Push Notification ads: These ads do not occupy any space on publisher's website. You can earn decent revenue even if your subscriber does not visit your website again.
Native ads: These ads mostly match your site's niche. The Click through ratio will be high compared to other ad formats.
Pop ads: Even these full-screen ads can fetch good revenues.
Foremedia Payment:
On this page, the publishers have to select a payment option.
The publisher can also track the previous payment history and earnings.
Affiliate:
The publishers can find their unique affiliate links on its page.
How and When Will the Publishers Get Paid?
Being a Foremedia publisher, you must reach at least $100 in earnings to receive the payout.
The payments are made on the Net 45 basis.
At the time of writing this article, the payment options are PayPal, Payoneer and bank transfer.
Is Foremedia Scam?
Frankly, when we were researching about Foremedia, we came across many mixed reviews.
Some publishers would say Foremedia is a scam and some say that it is a legit network.
There are few websites that actually have provided payment proofs.
Some complained that Foremedia have banned their accounts after reaching good revenue.
Usually, Google AdSense would ban users saying that publishers have broken their guidelines.
Even Foremedia argue that publishers have broken their rules.
Actually, some publishers are fed up with AdSense's rigid rules and looking for the right publisher program that offers great CPC and CPM rates. That too they don't want any other ad network to be strict like AdSense.
If Foremedia wants to stay in an advertising space for a long time, they should be less rigid.
When a publisher commits a mistake, then Foremedia should provide solid proof before banning publisher's account.
When you ban a publisher without furnishing any proof, there are higher chances for publisher to think that Foremedia is scam.
Foremedia Payment Proof:
Frankly, we haven't worked with Foremedia ad network.
This is the reason why we don't have proof of payment.
However, there are publishers who furnished Foremedia payment proofs on their websites.
You can search for such publishers on search engines.
What are The Pros and Cons of Foremedia Ad Network?
Pros:
Hassle-free signup process
Multiple advertising formats
Revenue models: CPC and CPM
Global traffic accepted
Support team (Live chat and Email)
Cons:
Just like AdSense, the threshold payout is high, $100. Low and medium level publishers find it difficult to reach the minimum payout in a shorter time.
Foremedia VS AdSense:
AdSense takes time for the approval process. Whereas Foremedia's process is fast comparatively.
AdSense doesn't have an active support team but Foremedia's support team is prompt.
The threshold payouts of both AdSense and Foremedia are the same, $100.
How to Reach Foremedia Support Team?
If you have any questions about Foremdia, then write to [email protected].
What is the Final Conclusion?
Website owners can monetize their traffic with Foremedia ad network.
Have you worked as a Foremedia publisher?
Be it a great or a bitter experience, we would genuinely love to hear about it.
We hope you enjoyed Foremedia review.