Monetag Review (2023): Is It a Best AdSense Alternative
We are going to talk about the Monetag review in this post.
Before reviewing Monetag, let us know why monetization is important for websites.
The foremost goal of any website owner is to monetize their websites through ads.
When someone launches a new blog or website, they will think of monetizing it with Google AdSense.
But AdSense won't approve your new website instantly.
They impose a lot of guidelines for publishers to join their ad network.
The waiting period in the case of AdSense is high.
While we want to tackle this issue by introducing you to an online advertising network.
This ad network is not restricted to web monetization alone. They have monetization solutions to different properties. We are talking about Monetag.
What Is Monetag?
Monetag is a popular ad network that you can use to make money from your web properties like websites, and apps.
They have access to top notch advertisers globally.
This monetization platform facilitates publishers to maximize their ad revenues through desktop, mobile and in-app traffic.
Monetag is also specialized in monetizing exit traffic and social traffic.
Presently Monetag is accepting news, entertainment, online cinemas, blogs, social, streaming sites etc.
Monetag claims to serve over 700 million ad impressions daily.
What are Rules for Publishers to Join or Use Monetag?
The websites must not host adult, torrent or malware content.
Free hosting websites like Blogspot, Weebly, or Wix are not allowed to join Monetag.
How Can Publishers Join Monetag?
Go to Monetag publisher signup page and you will have 2 account types options namely Individual and Business.
The Individual option should be selected if you are a blogger, influencer or a developer.
If you are an agency or an organization, then please select Company.
In either case, you must provide your identity proof to receive earnings.
Once you fill in the basic details, you will be asked a few questions.
You should specifically select an option as shown in the image below.
Once you finish signing up as a publisher, you will receive the verification email. After verifying, you will have access to your account dashboard.
How to Get Started with Monetag?
Once you login into your account dashboard, it would look like this as shown in the image below:
Site:
The site owners should click on the Add new site option to show the ads on their websites.
You must verify your website after verifying the website to display ads.
Android App:
Similarly, the app owners can click on the Add new APK to monetize their apps.
The app owner can select both Google play and Direct download channels.
Being an app owner, you should specify the number of users.
Once you are done, send a request.
Third-party traffic:
To create a direct link, Select the Third-party option and click Get link.
Once the link is ready, you can promote it on your website or social media.
What Is Monetag MultiTag?
Monetag strives to make the ads implementation simple.
So, they have developed an AI based tool, MultiTag to create 5 tags of different ad formats.
MultiTag comprises of five ad formats:
Popunder (Onclick)
Push Notifications
Interstitial
In-Page Push banner
Vignette banner
The publishers can show relevant ads on their websites by adding a single code.
You are entitled to earn higher CPM rates with a single click.
What Are the Monetag Ad Formats?
Presently Monetag is offering 6 high performance ad formats:
Popunder or Onclick ads
Push notifications
Vignette banner
In-page push
Interstitial
SmartLink
Popunder or Onclick ads:
This ad format fetches more revenue and you can use it along with banners.
You can even use Onclick ads with AdSense ads.
The pop ads are triggered whenever a user clicks anywhere on the page.
The full-tab ads are displayed in the new browser tab.
The CPM rates of Onclick ads are high.
Push notifications:
You might have noticed push notifications in websites or blogs.
The push notifications format is non-intrusive and won't eat up your space on your website.
The revenue model of this ad format is Cost per subscription.
When someone subscribes to your website, they will see a clickable push notification.
You can make decent revenue using push notifications even though the user doesn't visit your site again.
Vignette banner:
A Vignette banner is a small native banner that will be shown whenever someone visits your site.
Generally, this native banner ad will be displayed at the center of the page.
This banner ad comprises of icon, title, description, Close and Call to action (Continue) buttons.
The CPM rate of a Vignette banner is higher than that of a classical banner.
Users can see Vignette ads even though the ad block software exists.
These ads won't be shown when users leave the website.
In-Page Push:
These ads are shown when a user is browsing your website.
Basically, In-page push ads work on all devices and platforms like iOS and MacOS.
Mostly In-Page Push ads can be shown on all Geos.
The In-Page Push ad comprises of icon, title, and description. Whenever someone clicks on the notification, they will be redirected to the advertiser's page.
The fill rate of this ad format is 100% and it doesn't occupy any website space.
Interstitial:
Interstitial ads are one of the profitable ad formats and compatible with all geos, devices and platforms.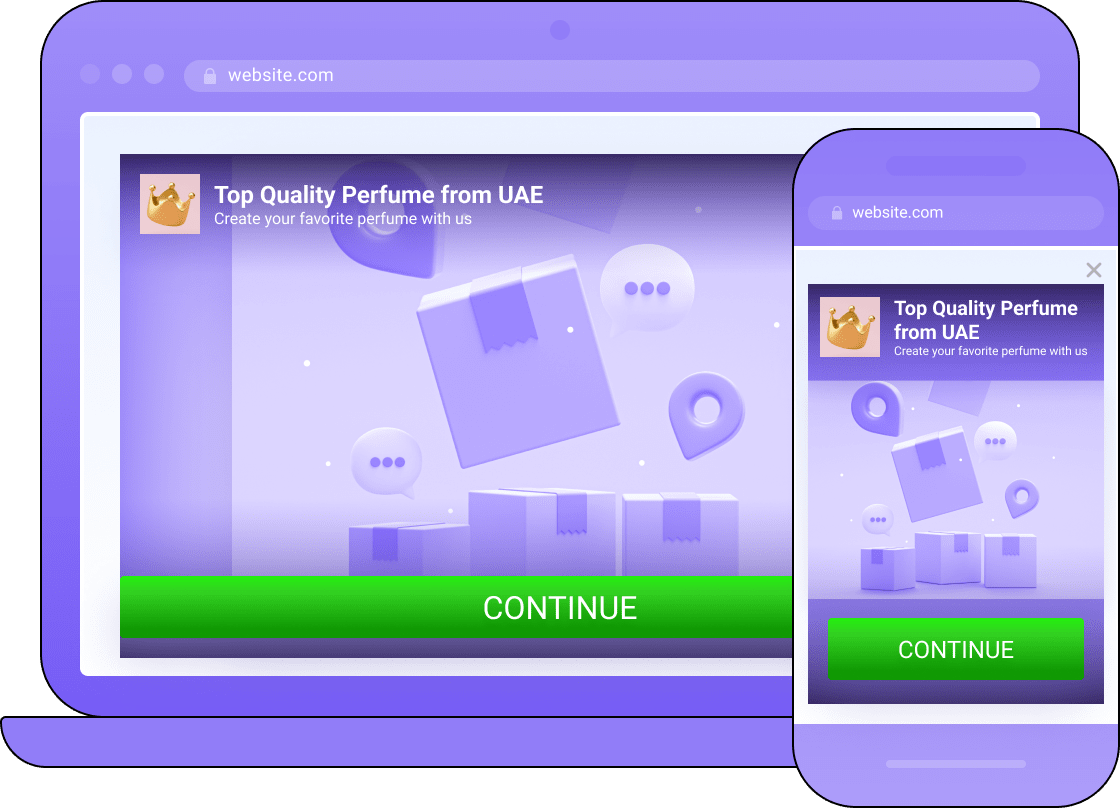 Interstial ads start showing once the page loads completely.
Being a publisher, you can customize the delay time.
The users can either click or skip the Interstitial ad by pressing the 'X' button.
The advantage of this ad format is that it works well with non-mobile optimized websites.
The CPM rates of the interstitial ads are higher than the traditional banners.
SmartLink:
SmartLink is also known as a direct link where you can send traffic to make money.
You can make your own banner, button, or link and connect the SmartLink.
When someone clicks on SmartLink, they are redirected to the advertising page and you will get rewarded.
The publishers can use any number of direct links on a single page.
To make decent revenue out of SmartLink, one should identify the right place to implement the direct link.
SmartLink can be monetized globally and there are no specific restrictions.
The publishers can use SmartLink ads on redirected traffic sources, 404 pages, toolbars, and expired domains.
Note: All the images of the ad formats belong to Monetag platform.
How and When Will the Monetag Publishers Get Paid?
Monetag offers the following payout options for the publishers:
PayPal
Skrill
Webmoney
Payoneer
Wire
If your site attracts over 10,000 unique users daily, then you will be eligible to receive weekly payment via PayPal.
The minimum payout is $5 for all the payment options except Payoneer.
You must reach at least $30 in earnings to activate Payoneer option.
Once activated, the threshold payout of Payoneer would be $20.
However, the publishers should write to the support team for better clarity.
Monetag CPM rates:
The CPM rates tend to change with the niche, geos and traffic.
If you recently added your site to Monetag, then it may take several days to weeks to analyze your site's performance.
Based on the user's interest and geos, Monetag will start serving high quality and profit-making ads.
You can enjoy high CPM rates if your website attracts more Tier 1 traffic.
Monetag Plugin:
WordPress (Not WordPress.com) site users can monetize using the Monetag plugin.
Visit https://wordpress.org/plugins/monetag-official/ to access the Monetag official plugin.
Monetag will approve your WordPress site only after verification.
Once your WordPress website gets approved, you are ready to use Monetag ads by selecting the ad formats.
The Monetag WordPress plugin offers 5 types of ad formats: Onclick, Vignette banners, Push Notifications, In-Page Push, and Interstitials.
What Is Monetag Referral program?
Monetag offers a referral program for their publishers.
One should not confuse this program with the affiliate program.
You can join an affiliate program even when you are not a registered user.
While the referral program is specially meant for the registered users.
Unless you verify your website or app, you cannot have access to Monetag referral program.
You can earn 5% commission from your referred publisher's revenue.
Priority Program:
Monetag will label the levels based on your revenue.
Green level – In this level, the publishers earn 0-$280 within 14 days.
Silver level – In this level, the publishers earn $280-$1400 within 14 days.
Gold level – In this level, the publishers earn $1400-$7000 within 14 days.
Platinum level – In this level, the publishers earn $7000+ within 14 days.
What Are the Benefits of Monetag Ads?
The fill rate is 100%. Monetag assures us that the ad inventory won't be wasted. The reason is that Monetag has access to advertisers worldwide.
Monetag doesn't impose rigid restrictions while signing up and monetizing. They also accept low traffic websites.
Being a Monetag publisher, you don't need to be tech savvy. You can integrate ads and monetize your sites with ease.
The ads are carefully monitored by Monetag before delivery. The end users experience malware-free, virus-free ads and anti-fraud content.
Monetag CPM rates are competitive compared to other ad networks.
The publishers can see the jump in their revenues from their "Adblock bypass solution".
Monetag platform provides innovative integrations like API, XML, and Smartlink for agencies, large suppliers, ad networks and exchanges.
The publishers have access to Monetag's helpful resources to learn how to increase ad revenue. You can also take advantage of the publishing community and Monetag blog.
Monetag publishers can increase their ad revenue from mobile web SDK & APK monetization formats.
You can earn additional income by recommending publishers to Monetag.
The publishers would receive payouts from Monetag on time.
The threshold payout for publishers is very low.
Monetag vs AdSense
AdSense is everyone's favorite when it comes to revenue.
But do you know that there are publishers who have earned more than AdSense by using certain ad units?
Mainly AdSense will show ads based on the website's content and keywords.
Whereas Monetag targets audience based on the user interests, geos, and gender.
There are some sensitive content types like Real-Money iGaming, Cryptocurrency and Foreign Dating that AdSense may disapprove or restrict of but Monetag approves it.
Google ads will stop showing if the user uses ad block software.
While Monetag surpasses the ad block technology and display ads
The ad formats of both AdSense and Monetag are different.
The Monetag signup process is hassle free compared to AdSense.
You can straightaway start installing Monetag ads on your websites.
Whereas you need to wait for AdSense's approval.
You must reach at least $100 in revenue to get paid from AdSense.
The minimum payout of Monetag is $5.
The publishers can make a lot of money if they use Monetag along with AdSense ads.
How to Reach Monetag Support Team?
If publishers have any questions or need help, then they can write to [email protected].
What Is the Final Conclusion?
One should look at the Monetag to monetize their websites or mobile apps.
Monetag is idle for medium and high traffic websites.
The revenue will be very high if your website is attracting good Tier 1 traffic.
You can also earn extra income with their referral program.
Have you worked as a Monetag publisher?
We would love to hear about your work experience.
We hope this Monetag review helps new publishers in monetizing their websites.
Join Monetag and start generating decent revenue!
FAQ
What type of traffic can you send to Monetag to monetize your websites?
Apart from websites, the publishers can also monetize from mobile apps, social groups, online games, software, widgets, or by sending any legitimate traffic.
How to Maximize Your Revenue?
The revenue depends on several factors like quantity and quality of the traffic, geos, devices (Desktop and Mobile), page views and traffic sources.
If your site receives high quality traffic, then you can earn higher revenue.
Apart from generating high traffic, you can also make extra income from Monetag referral program.
Can a publisher run Monetag ads along with Google AdSense?
Yes, absolutely. It is good practice if you can use both networks to monetize your website. However, any ads in excess should be avoided. 1 ad unit from AdSense and 1 ad unit from Monetag can be used on a single page. However, using 3 Monetag pop ads along with 3 ad units from AdSense will ruin your website.